G-energy JPS300V 110V/220V Input LED Display Power Supply
Product Detail
Product Tags
Product Main Specification
Output Power

(W)

Rated Input

Voltage

(Vac)

Rated Output

Voltage (Vdc)

Output Current

Range

(A)

Precision

Ripple and

Noise

(mVp-p)

300

110/220(±20%)

+5.0

0-60.0

±2%

≤150
| | | | | |
| --- | --- | --- | --- | --- |
| Item | Description | Tech Spec | Unit | Remark |
| 1 | Working temperature | -30—50 | ℃ |   |
| 2 | Storing temperature | -40—80 | ℃ |   |
| 3 | Relative humidity | 10—90 | % | No condensation |
| 4 | Heat dissipation method | Fan cooling |   | The power supply   should be installed on the metal plate to dissipate heat |
| 5 | Air pressure | 80— 106 | Kpa |   |
| 6 | Height of sea level | 2000 | m |   |
1

Input character

Item

Description

Tech Spec

Unit

Remark

1.1

Rated voltage range

200-240

Vac

Refer to the

diagram of input

voltage and load

relation.

1.2

Input frequency range

47—63

Hz

 

1.3

Efficiency

≥85.0

%

Vin=220Vac 25℃ Output  Full  Load  (at room temperature)

1.4

Efficiency factor

≥0.40

 

Vin=220Vac

Rated input voltage, output full load

1.5

Max input current

≤3

A

 

1.6

Dash current

≤70

A

@220Vac

Cold state test

@220Vac

2

Output character

Item

Description

Tech Spec

Unit

Remark

2.1

Output voltage rating

+5.0

Vdc

 

2.2

Output current range

0-40.0

A

 

2.3

Output voltage adjustable

range

4.2-5.1

Vdc

 

2.4

Output voltage range

±1

%

 

2.5

Load   regulation

±1

%

 

2.6

Voltage stability accuracy

±2

%

 

2.7

Output ripple and noise

≤200

mVp-p

Rated input, output

full load, 20MHz

bandwidth, load side

and 47uf / 104

capacitor

2.8

Start output delay

≤3.0

S

Vin=220Vac @25℃ test

2.9

Output voltage raise time

≤90

ms

Vin=220Vac @25℃ test

2.10

Switch machine overshoot

±5

%

Test

conditions: full load,

CR mode

2.11

Output dynamic

The voltage change is less than±10% VO; the dynamic

response time is less than 250us

mV

LOAD 25%-50%-25%

50%-75%-50%

3

Protection character

Item

Description

Tech Spec

Unit

Remark

3.1

Input under-voltage

protection

135-165

VAC

Test conditions:

full load

3.2

Input under-voltage

recovery point

140-170

VAC

 

3.3

Output current limiting

protection point

46-60

A

HI-CUP hiccups

self-recovery, avoid

long-term damage to

power after a

short-circuit power.

3.4

Output short circuit

protection

Self-Recovery

A

 

3.5

over temperature

protection

/

 

 

4

Other character

Item

Description

Tech Spec

unit

Remark

4.1

MTBF

≥40,000

H

 

4.2

Leakage Current

<1(Vin=230Vac)

mA

GB8898-2001 test method
Production Compliance Characteristics
Item

Description

Tech Spec

Remark

1

Electric Strength

Input to output

3000Vac/10mA/1min

No arcing, no breakdown

2

Electric Strength

Input to ground

1500Vac/10mA/1min

No arcing, no breakdown

3

Electric Strength

Output to ground

500Vac/10mA/1min

No arcing, no breakdown
Relationship between environmental temperature and load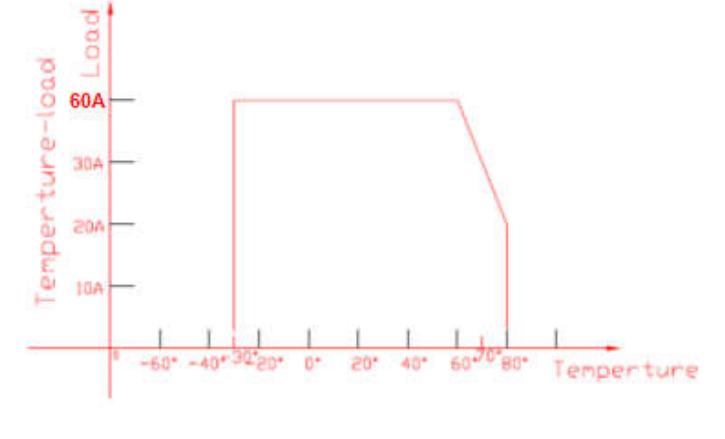 Input voltage and load voltage curve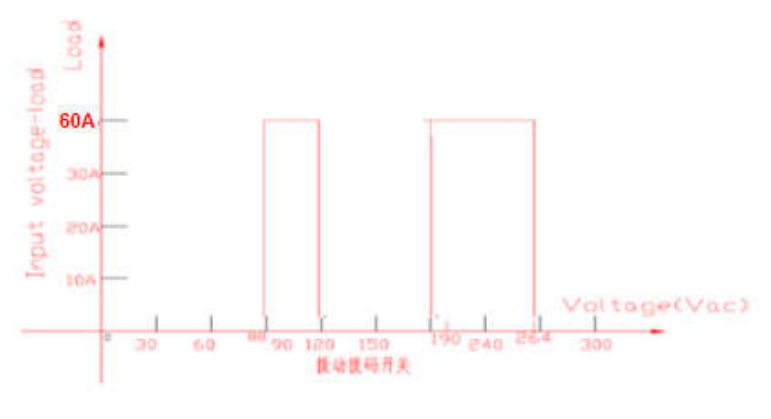 Load and efficiency curve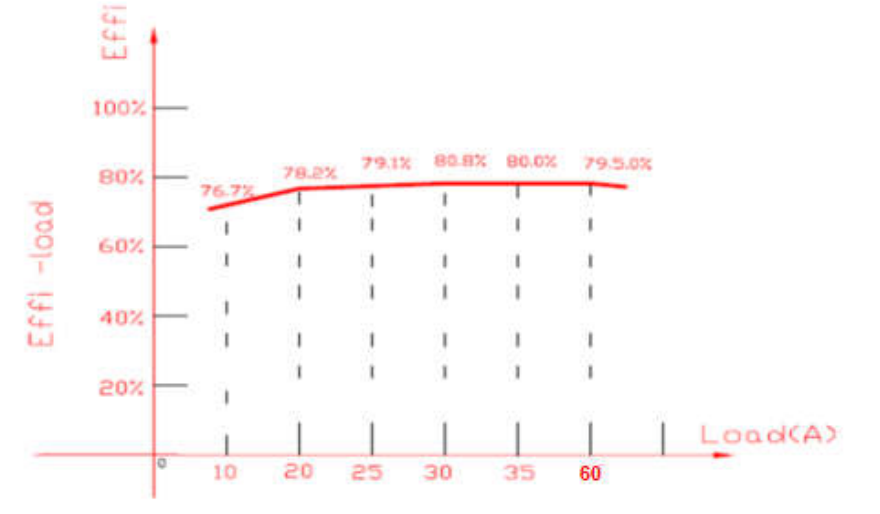 The mechanical character and the definition of connectors( unit:mm)
Dimensions:  length× width× height=140×59×30±0.5.
Assembly Holes Dimensions
Above is the top view of the bottom shell. The specifications of the screws fixed in the customer system are M3, totaling 4. The length of the fixed screws entering the power supply body should not exceed 3.5mm.
Attention For Application
Power supply to be safe insulation, any side of the metal shell with the outside should be more than 8mm safe distance. If less than 8mm need to pad 1mm thickness above PVC sheet to strengthen the insulation.
Safe use, to avoid contact with the heat sink, resulting in electric shock.
PCB board mounting hole stud diameter not exceeding 8mm.
Need a L355mm*W240mm*H3mm aluminum plate as auxiliary heat sink.
How to make LED display brightness change automatically in different time ?
A: It is required with light sensor. Some devices can connect with sensor directly. Some devices need to add multi-functional card then can install light sensor.
How to customize video splicer, like Novastar H2?
A: At first decide how many LAN ports the screen need, then choose 16 ports or 20 ports sender card and quantity, then choose input signal that you want to use. H2 can install maximum 4 input board and 2 sending card board.  If H2 device is not enough, can use H5, H9 or H15 to install more input or output boards. 
How do I recognize which pitch LED display I should buy ?
A: Normally based on viewing distance.  If viewing distance is 2.5 meter in meeting room,  then P2.5 is best.  If viewing distance is 10 meter outdoor,  then P10 is the best.
What is the best aspect ratio for LED screen ?
A: The best view ratio is 16:9 or 4:3
Do you test all your goods before delivery?
A: Yes, we have 100% test for 72hrs before delivery.
How do you make our business long-term and good relationship?
We keep good quality and competitive price to ensure our customers benefit ;
What is the quality control of your products?
Quality is our first purpose. We pay great attention to the beginning and the end of production. Our products have passed CE & RoHs & ISO & FCC certification.
What is your after-sales service?
A: We can provide 100% guarantee for our products. If you have any questions, you will get our reply within 24 hours.
---
---